Convention and trade show
Meeting Rooms
High-rise Office Buildings
Financial Institutions
Public Transportation Agencies
Condominium Communities
& Apartment Complexes
City and County Government
Suburban Business Parks
Shopping Centers
Special Events
Medical Facilities
Manufacturing / Industrial
HOA Neighborhood Patrol
Roving Officers
Monitoring and coordinating
central command centers
Utilizing trained security officers
Traffic Control
Fire Watch
School Security
Personal Protection
Crowd Control at Special Events
Prevention is Our Goal, Customer Service is our Priority
We provide trained, respectful officers who care about the job they do. We have built a team of security officers based on years of working in the trade show industry as both a consulting and management team and as a guard company.
While we specialize in trade shows and conventions we also offer a wide range of services to meet your organization's unique security needs and budget. Our security programs are designed to address any scale project from individual and small business concern to assessing and implementing comprehensive, large-scale security programs.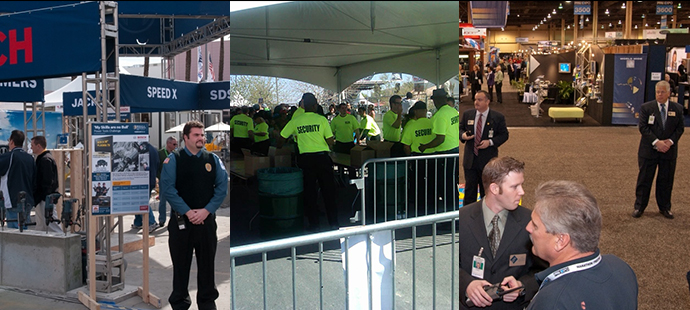 CONVENTIONS – TRADE SHOWS
DTA Security Services is an experienced provider of coverage for major high-end trade shows and conventions. Over the years and through the generations and change of our business we are proud to say we have been in both trade show management and Security officer services. We feel that this gives our company a heads up on what is expected and required in order to have a successful event. DTA Security officers provide coverage using a specialized group of former military, law enforcement personnel and other carefully selected professionals. This service is unique in Las Vegas and has been structured to give you peace of mind while you attend to the other important elements of the show or convention.
EXECUTIVE PROTECTION
One of the major concerns executives have is their safety and that of their families. The high profile positions and the constant appearances in the public by these individuals create a serious risk. Protecting executives from threats or bodily harm requires special training and awareness by those assigned to protect that individual. Our lead executive director has had years of experience in  the military which gives our staff the edge, which distinguishes us from other security companies. DTA Security Services staff will meet with the client, assess the threat level and take appropriate action to put together a plan of action to reduce the risk. The key to a successful executive protection role is planning tactics, knowledge, dedication and professionalism. DTA Security Services offer all these to you.
ARMED OR UNARMED – ESCORT SERVICES
Visitors to Las Vegas who carry Jewelry, Precious Stones, Coins, Currency, etc. often seek escorts to and from their destinations. DTA Security Services will provide an armed or unarmed security professional to meet you upon your arrival and deliver you safely to your destination. Depending on the value of your merchandise, two Elite Security professionals may be assigned.  Our armed Executive Security professionals are highly trained in the use of firearms and safety. Our goal is to provide you with the highest level of security and safety and deliver 100% on time and complete.